XRP voices!
Xrp.cafe is an up-and-coming NFT marketplace on the XRP ledger (XRPL).
Katie, Uphold's Digital Asset Researcher, sat down with two of xrp.cafe's co-founders to discuss all things related to the XRPL, what it's like building in Web3, the importance of community outreach, and much, much more.
Uphold: You've built a thriving NFT marketplace - why did you launch it on the XRP ledger?
Chris: There was a lot of demand. Compared with other chains, there aren't many marketplaces on the XRP ledger yet. But I've also been a fan of NFTs and XRP for years. I started out exploring NFTs in the ETH community - when the opportunity came to build a marketplace on the XRPL with Adam, our lead developer, it felt like a natural fit. 
Uphold: So you were early supporters of XRP?
Steve: Yes! Chris and I met way back in middle school - that's when we first came across Bitcoin. A few years later, around about 2017, Ripple was everywhere. We did a ton of reading around the tech, its use-case for cross-border payments made sense to us - and we've been holding ever since. We bought our XRP on Uphold!
Uphold: Some see the XRPL as ideal for NFTs: it's cheap, fast, and secure. But compared with chains like Ethereum or Polygon, trading volumes are tiny. Why?
Chris: Awareness. We had a booth at Consensus a few weeks ago and there was so much interest in our project. The stream of visitors was constant - we were talking all day. But while the response was positive, the overwhelming feedback was that most people at the conference didn't know there was NFT support on the XRPL. 
Uphold: What will change that? It's not like XRP is niche, it's one of biggest cryptos by market cap. You'd think that by association…?
Chris: There hasn't been much marketing around XRPL NFTs, so people don't know about it. Secondly, people who have a strong interest in XRP (the asset) aren't necessarily into NFTs. Plus, there aren't enough easy options for storing XRPL NFTs - the wallet I currently use takes half an hour to set up, which is too long.
What will raise awareness? The Ripple v SEC case - if the ruling goes in favor of Ripple, XRP will become even more popular, and there's likely to be a trickle-down effect into the NFT community.
Uphold: NFT enthusiasts have less choice on the XRPL than, say, Ethereum. What draws users to xrp.cafe?
Chris: If you try our marketplace, everything loads instantly, which is really attractive to traders. We've kept everything simple - there's no platform token, the UI is clean and intuitive. It's always tempting to add more features, to broaden your offering but most of the time that overcomplicates the user experience. We're a marketplace - that's it.
We're really in tune with what our customers need. We host weekly Twitter spaces and AMAs which can go on for as long as eight hours (yes, really). Our relationship with users is genuine, which in an age of influencers and constant digital advertising is an aspect I think people value. 
Uphold: Sounds like that removes the need for a governance token then! Engaging with all of your users is clearly important to you - there's even a dedicated Japanese language channel in your Discord. Where do most of your users seem to be based?
Steve: Yes, there's a huge XRP community in Japan - we've caught the attention of a few of their NFT enthusiasts. When we launched we were featured in a few japanese magazines! But otherwise our users are mainly in the U.S. and Europe.
Uphold: You've also branded yourselves as the 'cozy' marketplace on the XRP ledger - are other marketplaces not 'cozy'?
Chris: Well, our logo is cute. It's kind of impossible to get angry at a smiling mug.
Uphold: You haven't always worked in 'Web3'. How is it different from more traditional and established industries?
Chris: When I'm working on xrp.cafe, I feel like I'm 100% myself. Same for Adam, same for Steve  - if you talk to us during a Space or interview, it's the real us you see. With jobs in more 'traditional' industries, I feel like you're always putting on a mask. 
Uphold: I think most people would assume the opposite.  Crypto is so deeply associated with anonymity.
(Chris and Steve nod sadly).
Uphold: And finally - describe the XRP community in three words.
Steve: Small but big.
To learn more about xrp.cafe, tune in to their weekly Twitter Space.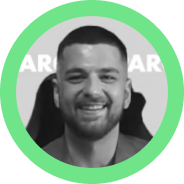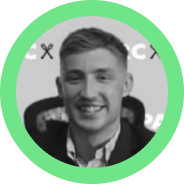 Headshots: Chris Troia and Steve Shipley